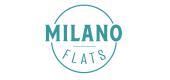 Your Review
Submit a Review

Resident Reviews
|Recommended: YesSuper nice rooms — It's nice having your own room and there's plenty of storage room.
|Recommended: YesNice place, great staff — I lived here for four semesters and had an overall good experience. The staff and maintenance team are great, and maintenance issues are fixed super quickly. They made having an emotional support cat a very simple process and never made it feel like a burden. My only complaint is that the laundry room is a little small and pretty far away from certain apartments. However, if you prefer a private room and don't mind a short walk to campus, this is an excellent place to live.
|Recommended: YesA really nice place to live — The private rooms are really nice, apartments and grounds are well kept, friendly and cooperative staff and management, overall a really nice place to live.
|Recommended: YesMilano Flats is a great place to live. It is close to campus, walking distance . The maintenance is great and quick to action when needed. The managers are KIND and understanding The hot tub is a wonderful amenity for relaxation. The study room is very convenient especially with it's free printing This is a great place to live for meeting new people and taking advantage of the amenities.
|Recommended: YesMilano Flats — It is a nice little place. Not to far from campus. It is nice having your own room. The amenities are nice. The only downside is the lack of the washer and dryer in the apartments, however, the onsite ones are not bad and free.
|Recommended: YesMilano Flats is a good community — Milano Flats is a good community that has nice rooms and facilities
|Recommended: YesWelcoming — Very cozy and a homey feel to it. Awesome privacy, but fun because you still have 5 other roommates. Very clean and nice Good area and close to campus.
|Recommended: YesNice — It is great to live.
|Recommended: YesIt's really nice and convenient. — It's really nice. I love it here.
|Recommended: YesLove it. — A private room alone is worth a higher price
|Recommended: YesOverall Great Place to Live — A few hiccups with maintenance, but they responded quickly and I have enjoyed residing here.
|Recommended: YesGreat — It is kept up and the staff are nice
|Recommended: YesMilano Flats is home away from home — I have lived at Milano Flats for over two years, and I have loved it every semester. I have loved the managers and the atmosphere. Having your own room is amazing. It allows for peace whenever you need work done, and the living room is homey enough that you can enjoy time with roommates at any time of day.
|Recommended: YesHas its issues like anywhere, but a good experience overall. — Student housing in Rexburg can be a dramatic, expensive, and condescending experience, but with all institutional critiques aside, Milano Flats has been the best experience for me all things considered. The management is professional and respectful for the most part. It's a great ward, good people, and cozy enough living accommodations. Without the private room appeal, Milano flats would be a lot less to speak of. The place has always had a promiscuous reputation because of it, but I guess that's just the trade off that occurs. The place is miserable in the hotter months with nothing but these single, ghetto, window AC units in each apartment. Things are constantly breaking and falling apart, but thankfully management understands and have never been quick to blame or charge me for things. Winter is quite cozy, unless you live on the top floor. Again, the private room thing is definitely the crux of why people live here. It would be nice to see some updates done eventually, but if not that, at least prices lowered for the quality of living it offers.